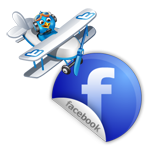 FeedBurner Awareness API is dead! It's dead, despite the assurances of the development team of Google and related to this, the hopes of millions of bloggers around the world. This means that the number of subscribers to FeedBurner we will not see in any way. And Simple Counters no exception. A pity!
Thanks to the user from India – he prompted a very constructive idea. And the idea is that – replace FeedBurner counter to Facebook counter. This idea I liked, and some time to tinker with the Facebook SDK, I was able to revive the plugin.
As you already understand, the top button changed – now instead FeedBurner counter will display Facebook counter.
Setting counter Facebook is more difficult than FeedBurner settings, so if you intend to use this plugin, please pay careful attention to the information below.
[Read more...]
Popularity: 2%