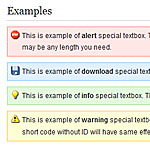 Dear readers of my blog! I ask to consider this article as controllable information leakage. 😉
Operation over the new version (version 4) of WordPress plug-in Special Text Boxes has started. As a matter of fact, now there is an works over jQuery plug-in which will be a basis of the new version. The first testing has shown that stb mapping of blocks of the text occurs to script usage absolutely equally in all browsers accessible to me, including IE (rounded corners, shadows, etc.).

The developed plug-in will use new technology of plotting on a canvas, in IE, accordingly VML-technology. That will allow to use more interesting дизаин and to increase quantity of user's customisations. Operation is in a stage preAlpha, otherwise, right at the beginning. However some can be seen results right now.
It would be desirable to learn opinion of the people on necessity of so revolutionary changes. Whether it is necessary to continue operation in this direction or let all remains "as is" …
It is very important to me to know your opinion.
Thankful in advance!
P.S. Soon do not wait. It is necessary to do a lot of work.
© 2010, minimus. All rights reserved.